product introduction

product description
●Main purpose:
One, body shaping
How effective is your health and nutrition plan? Use it to monitor changes in your body shape and size.
Second, custom clothing
Need better-fitting clothing? Please tell the designer your physical data.
3. Medical
Some special diseases of teenagers, such as the treatment of scoliosis, need its help.
●Main features:
1. Non-invasive scanning and automatic measurement are
completely autonomous and private. It only takes 35 seconds and the processing time is only 40 seconds. Scan on tights, shorts and any clothing that fits well.
2. Interactive 3D visual effects
Stunning interactive 3D front/rear effects. Rotate, pan, and zoom to view the entity from any angle. Touch friendly.
3. Built-in coaching
to rank body fat and compare the results with peers. Set weight loss goals and dates. Customize training frequency. Estimate the basal metabolic rate and calorie expenditure. Standardize the evaluation process to save staff time.
4. Automatic reports are
automatically sent to customers who can open/view at any time. Detailed information on how each biometric has changed over time. Report progress, scans, body compensation, and more!
Note:
All the above functions are completed by the software, if you only need to output the point cloud, these functions are not included.
●Main parameters
Scanning time: 30-40 seconds
Recommended distance: 117 cm (distance between human body and scanner)
Human body torso scanning accuracy: +- 2.5-5 mm
Minimum site requirement: 257 cm x 168 cm
Minimum computer configuration: I3, 6G memory , 256G hard disk, USB3.0, Windows 10/64BIT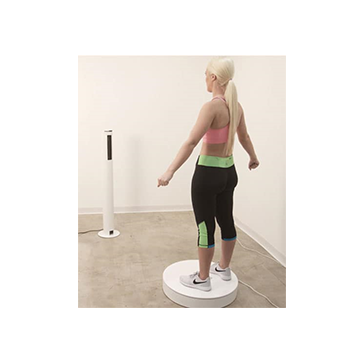 Independent intellectual property rights
From 3D system design and optimization, to algorithm and software design, chip design and development, we have completely independent intellectual property rights.

Take the lead in mass production
The product has been in mass production since 2015, and the algorithm and hardware have been iteratively optimized.

Full platform compatibility
The product can adapt to the diverse application scenarios of major manufacturers, and can be widely used in TV, mobile phones, robots, VR/AR and other fields.
Application scene

Application scenario

Mobile phone/tablet
The 3D structured light camera on the front of the mobile phone can realize 3D face unlock, AR camera and other functions;
3D face recognition
The 3D sensor camera can be applied to 3D face recognition authentication in scenes such as face-swiping payment, face-swiping withdrawal, face-swiping access control, face-swiping security check, etc.;

Smart living room
The 3D sensor camera is used with a large-screen TV to provide users with AR education, games, somatosensory fitness and many other contents;

Robot 3D Vision
The robot four-in-one vision system can quickly realize the functions of 3D map creation, obstacle avoidance, and navigation;

3D scanning
Obtain 3D image information of the object through scanning, and build a 3D image model;

Three-dimensional body measuring instrument
Quickly measure body shape data, intelligently match product sizes, and personally customize clothing;